Volkswagen Tiguan Owners Manual: Electrical controls on the driver and front passenger seat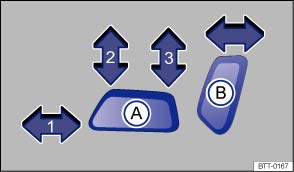 Fig. 40 Driver seat controls to adjust the seat backward and forward, change seat cushion height and angle, and adjust backrest angle.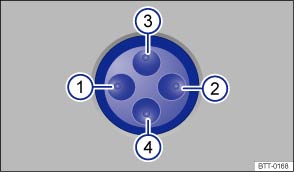 Fig. 41 Lumbar support control.

Read and follow the introductory information and safety information first
⇒

Introduction to the subject 
The controls on the front passenger seat mirror those on the driver seat.
There may be both manual and electrical controls on the same seat.
⇒ Fig. 40  Press the switch in the direction of the arrow:
Ⓐ
①
Slide the seat backward or forward.
② and ③
Raise or lower the seat cushion.
② or ③
Adjust seat cushion angle.
Ⓑ
Forward or backward.
Adjust backrest angle.
Press ⇒ Fig. 41  switch for each area:
① or ②
Adjust lumbar support.
③ or ④
Adjust lumbar support height.


Warning
Improper use of electrical seat controls can cause serious personal injuries.
The front seats in your vehicle can be electrically adjusted even when the vehicle key has been removed from the ignition or, on a vehicle with Keyless Access, even if there is no key in the vehicle.
Never leave children and persons who need help in the vehicle alone because the unsupervised use of the electric seat adjustments can result in serious personal injury.
Always make sure that no one is in the way while the front seats are being adjusted, or while calling up the stored memory settings for the front seats. In an emergency, stop automatic seat adjustment by pressing a seat adjustment switch.


Note
To help prevent damage to electrical parts in the seat, do not kneel on the front seats or apply concentrated pressure to a small area of the seat or backrest.

If the vehicle battery is too weak, the electrical seat adjustment controls may not work.

Starting the engine stops seat adjustment.

When entering and exiting the vehicle, be careful not to come into contact with any switches that could change the seat adjustment.