Volkswagen Tiguan Owners Manual: Using jumper cables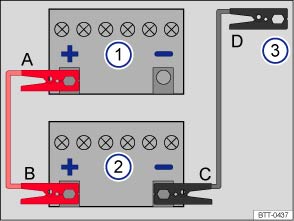 Fig. 211 Diagram for attaching the jumper cables: Dead battery ① and booster battery ②.

Read and follow the introductory information and safety information first
⇒

Introduction to the subject 
The dead battery must be properly connected to the vehicle's electrical system.
Make certain that the vehicles are not touching each other. Otherwise, electric current could flow as soon as the positive terminals (+) are connected. Use longer jumper cables if necessary.
The clamps on the jumper cables must have good contact to bare metal on the battery terminals.
If the engine does not start, stop the process after 10 seconds and repeat after about 1 minute.
The procedure for attaching and for removing the jumper cables is described below. Perform each of the following steps only in the order described, which follow the letters shown in the illustration ⇒ Fig. 211 A – B – C – D.