Volkswagen Tiguan Owners Manual: Manual controls on the driver and passenger seat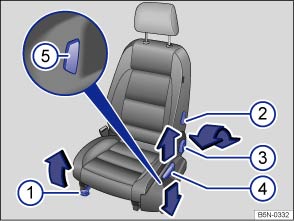 Fig. 39 Controls on the left front seat.

Read and follow the introductory information and safety information first
⇒

Introduction to the subject 
The controls on the front passenger seat mirror those on the driver seat.
There may be manual and electrical controls on the same seat.
| ⇒ Fig. 39  | Function | Action |
| --- | --- | --- |
| ① | Move the front seat backward or forward. | Pull the lever up and move the front seat. The front seat must lock in place after the lever is released! |
| ② | Lumbar support control. | Push the lever forward or pull it backward. |
| ③ | Adjust backrest angle. | Push back the lever and adjust the seat backrest. The seat backrest must lock in place after you release the lever! |
| ④ | Adjust seat height. | Move the lever several times up or down. |
| ⑤ | Adjust backrest angle. | Push back the lever and adjust the seat backrest. The seat backrest must lock in place after you release the lever. |
Volkswagen Tiguan Owners Manual
Volkswagen Tiguan Service and Repair Manual
Tesla Model Y (2020-{YEAR}) Owner's Manual
© 2018-2023 Copyright www.vwtiguan.org - 0.0077