Volkswagen Tiguan Owners Manual: Adjusting rear seat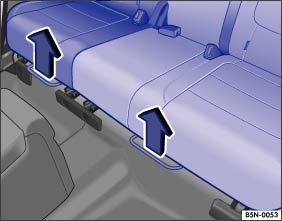 Fig. 42 Adjusting the rear seat.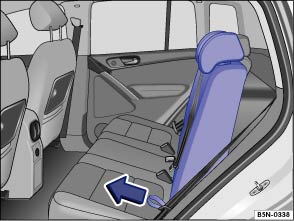 Fig. 43 Adjusting the rear backrest.

Read and follow the introductory information and safety information first
⇒

Introduction to the subject 
The rear seat is divided asymmetrically into 2 sections. Each section can be adjusted separately.
Pull right or left lever upwards ⇒ Fig. 42  and push the respective rear seat section forward or backward. Release the lever and lock the rear seat section by gently sliding it forward or backward.
Place one hand on the right or left rear backrest and pull the respective pull strap with the other hand ⇒ Fig. 43 . Move the rear backrest to the desired position by hand against the force of the spring. Release the pull strap and lock the rear backrest by gently tilting it forward or backward.


Warning
Improper adjustment of the rear seat can cause accidents and severe injuries.
Adjust the rear seat only when the vehicle is stopped, since the seat could otherwise move unexpectedly when the vehicle is moving.
Adjust the rear seat only if no one is in the way.
Always guide the backrest down by hand and never let it fall into place on its own


Note
Items in the luggage compartment could be damaged or cause damage when the rear seat is adjusted in the fore and aft direction.
If the rear seat is in a forward position, items can get into the area between the seat and the luggage compartment floor. When you slide the rear seat back again, make sure that the area behind the seat is clear of objects.