Volkswagen Tiguan Service and Repair Manual: Brake Booster, Removing and Installing
Special tools and workshop equipment required
Brake Charger/Bleeder Unit -VAS5234-
Release Tool - Brake Servo -T10159- or Brake Servo Release Tool -T10159A-
Torque Wrench 1331 5-50Nm -VAG1331-
Removing
On vehicles with a coded radio, note the code and if necessary retrieve it.
Disconnect the battery.
Remove the air filter.
Remove the battery.
Remove the battery carrier.
Open the wiring duct, remove both wiring harnesses and lay them aside.
Remove the wiring duct from the console.
Place enough lint-free cloths near the engine and transmission.
Extract as much brake fluid as possible from the brake fluid reservoir using the Brake Charger/Bleeder Unit -VAS5234-.
For Vehicles with Manual Transmission:
Disconnect the clutch master cylinder return hose -B- and secure it out of the way or clamp it off with a commercially available tool such as the Hazet 4590 and then remove it.
Continuation for All Vehicles
Remove the connector -A- from the Brake Fluid Level Warning Switch -F34-.
Remove the connector -C- from the Brake Lamp Switch -F-.
Pull the vacuum hose out of the brake booster.
Mark both brake lines from the brake master cylinder to the hydraulic unit and remove them.
Immediately seal off the brake lines and the threaded holes with the plugs from Repair Kit -1H0 698 311 A-.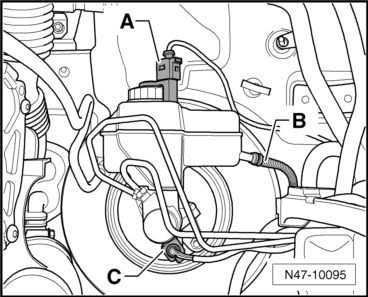 Remove the nuts -arrows- and remove the foot well trim -1-.
Remove the noise insulation on the brake pedal, if applicable -item 3-
Disconnect the brake pedal from the brake booster.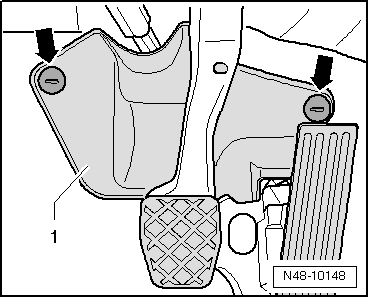 Remove the nuts -1- from brake booster.
Loosen both upper nuts -2- from the mounting bracket.
Carefully remove the brake booster from vehicle.
Remove the nuts for the brake master cylinder.
Carefully remove the brake master cylinder from the brake booster.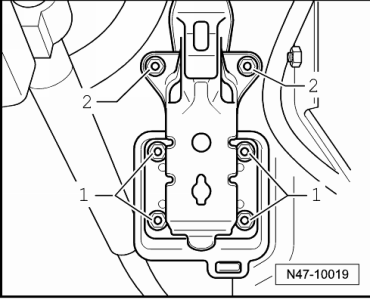 Installing
Install in reverse order of removal.
Note the following points when installing:
Make sure that the boot is installed correctly.
Clip the brake pedal to the brake booster.
After removing the bleed the brake system.
Vehicles with a manual transmission: bleed the clutch system.
Tightening Specifications
Brake booster to pedal assembly/bulkhead 25 Nm
Brake master cylinder to brake booster 25 Nm
Brake lines to brake master cylinder 14 Nm
Volkswagen Tiguan Owners Manual
Volkswagen Tiguan Service and Repair Manual
Tesla Model Y (2020-{YEAR}) Owner's Manual
© 2018-2023 Copyright www.vwtiguan.org - 0.0078