Volkswagen Tiguan Service and Repair Manual: Component Location Overview - Heating
Component Location Overview - in Front Vehicle Interior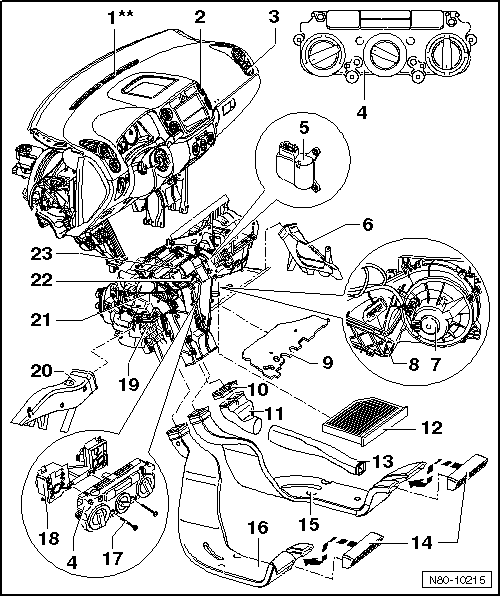 Instrument Panel
Center Vent
Front Passenger Vent
Heating and Ventilation Controls

With Fresh Air/Recirculation Door Switch -E159-
Also with Immediate Heating Button -E537- in vehicles with auxiliary heater
Removing the controls.
On vehicles with seat heating also with Heated Driver Seat Adjuster -E94- and Heated Front Passenger Seat Adjuster -E95-

Fresh/Recirculated Air Door Motor -V154-
Right Footwell Vent
Fresh Air Blower -V2-
Fresh Air Blower Series Resistor with Fuse -N24-
Partition from Heater
Closure Caps

Only in vehicles without air duct to vent installed in center console at rear

Air Routing

To remove, the center console must be removed first.

Dust and Pollen Filter

With EVAP canister
Removing and installing.

Connection

For the center console air duct
To remove, the center console must be removed first.

Air Outlet Grille

Depending on vehicle equipment

Right Footwell Rear Channel
Left Footwell Rear Channel
Screw
Adapter for Controls
Heater Core

Replace all the coolant after replacing the heater core.
Removing and installing.

Left Footwell Vent
Temperature Control Door Release Cable
Flexible Shaft
Heater

Removing and installing.
Disassembling and Assembling.
Installation Position of Seal for Heater and Engine Compartment
First insert the seal between the heater and engine compartment -A- into the plenum chamber bulkhead and then place on the heater core.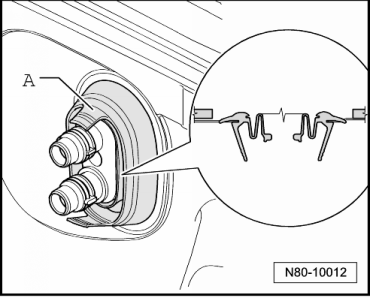 Note
The installation position must be observed to prevent water from entering the vehicle interior.
Volkswagen Tiguan Owners Manual
Volkswagen Tiguan Service and Repair Manual
Tesla Model Y (2020-{YEAR}) Owner's Manual
© 2018-2023 Copyright www.vwtiguan.org - 0.0144