Volkswagen Tiguan Service and Repair Manual: Digital Satellite Radio Tuner
General Information
Depending on the vehicle radio or radio navigation system used, the reception can be expanded for satellite radio programs via equipment with a digital satellite radio tuner.
The digital satellite radio tuner is installed in the "RNS 315" unit.
Note
Before troubleshooting or servicing, the technicians must be familiar with the function and operation of the radio unit/radio navigation system and of digital satellite radio tuner.
Refer to the Owner's Manuals.
For servicing or trouble shooting, use the Vehicle Diagnostic Tester and → Wiring diagrams, Troubleshooting & Component locations
When the battery is reconnected, check any affected system or component (radio, clock, comfort electrical connection etc.) according to the repair manual and/or the Owner's Manual.
A satellite reception antenna is installed on the rear of the roof for satellite radio tuner operation.
In the Tiguan, the digital satellite radio tuner is installed under the front right seat.
Troubleshooting
The digital satellite radio tuner is equipped with On Board Diagnostic (OBD) capabilities
Use the Vehicle Diagnostic Tester under "Guided Fault Finding".
Digital Satellite Radio, Removing and Installing
Removing
Do the following before starting the procedure:
Turn off the ignition and all electric consumers and remove the key.
Slide seat cover off in direction of -arrows-.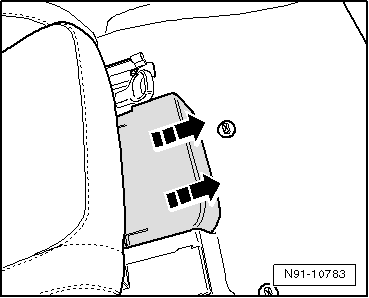 Disconnect connectors -A- and remove four screws -arrows-.
Remove digital satellite radio tuner together with bracket.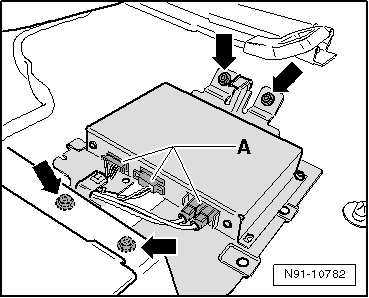 Remove screws -arrows- while holding nuts under bracket in place - otherwise, these will turn with screws.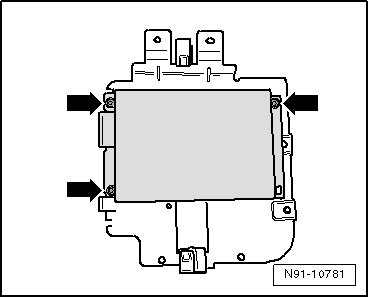 Installing
Installation is performed in the reverse order of removal.
Overview - Multi-Pin Connectors on Digital Satellite Radio Tuner
Data Input and Output Information Connection
Voltage Supply Connection
Antenna Line Connections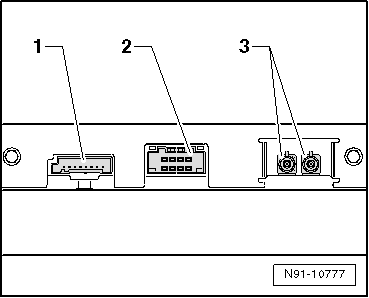 Multi-Pin Connector 1, Assignment
CAN Bus, Low
CAN Bus, High
CDX, Left, Input
CDX, Right, Input
Audio, Negative
Audio, Output, Left, Positive
Audio, Output, Right, Positive
CDX, Negative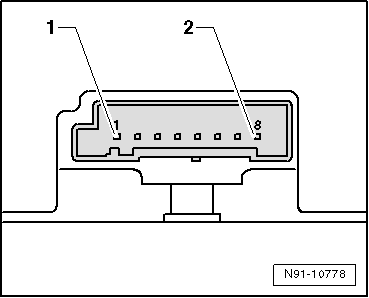 Multi-Pin Connector 2, Assignment
Voltage Supply, Negative
Voltage Supply, Positive
Not Assigned
Not Assigned
Not Assigned
Not Assigned
Not Assigned
Not Assigned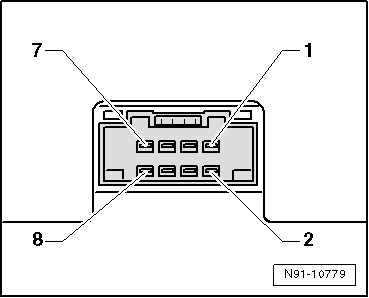 Antenna Connectors, Assignment
Antenna, Terrestrial, Input, Brown
Antenna, Satellite, Input, Green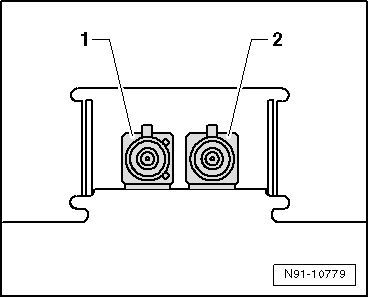 For vehicles from 11/2006, a connection is still available here.