Volkswagen Tiguan Service and Repair Manual: CD Changer
CD Changer, Removing and Installing
General Information
Note
The CD changer is not faulty if the CD changer plays commercially available CDs, but not self-burned CDs. Do not replace the CD changer for this reason.
Mix CDs (CDs that contain computer data and also music) cannot be played.
Music CDs with 8 cm diameter (mini-discs) cannot be played back.
When retrofitting CD changer, radio functions must always be coded again.
Special tools and workshop equipment required
Radio Removal Tool -3316-
The Radio Removal Tool -3316- is made up of two identical parts.
Removing
Note
CD changer is installed under the foldable center armrest.
Do the following before starting the procedure:
Turn off the ignition and all electric consumers and remove the key.
Open the folding center armrest completely.
If necessary, remove CDs remaining in CD changer. Refer to the Owner's Manual.
Insert the Radio Removal Tool -3316- into the slots on the CD changer until it audibly engages.
Pull out CD-changer using radio removal tools -arrows-.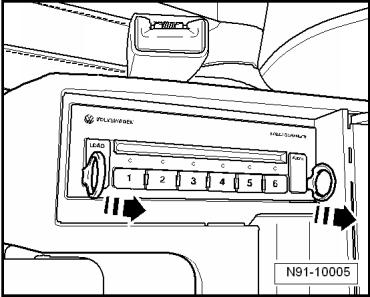 Disengage harness connector at points designated with -arrows- and disconnect it.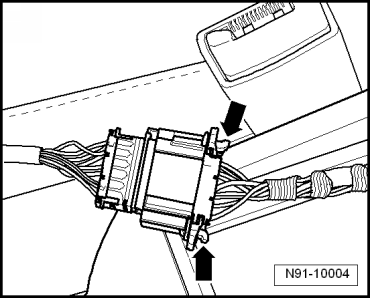 Press on the retaining clip -arrow- and pull the radio removal tools out of the removed unit.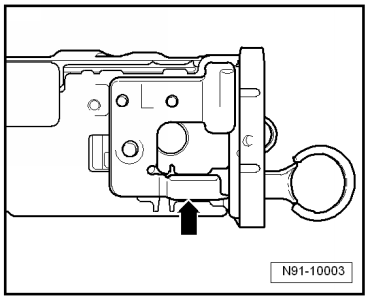 Installing
Install in reverse order of removal.
Volkswagen Tiguan Owners Manual
Volkswagen Tiguan Service and Repair Manual
Tesla Model Y (2020-{YEAR}) Owner's Manual
© 2018-2023 Copyright www.vwtiguan.org - 0.0141