Volkswagen Tiguan Service and Repair Manual: Snow Chains
Snow Chins, Assembly and Replacing
Snow chains may be mounted only on the drive wheels.
If the vehicle has AWD, then snow chains may be used on the front wheels only.
Snow chains are not possible with all wheel/tire combinations. Corresponding notes can be found in the vehicle parts certificate table.
If no special snow chain type is specified, a snow chain with small chain links can be used. Only chains which do not stand up more than 15 mm, including chain lock, may be applied on tire tread and inner sides.
With some models and certain wheel/tire combinations, only snow chains with small chain links can be used. Corresponding notes can be found in the vehicle parts certificate table.
The Legally Permitted Maximum Speed When Driving With Snow Chains is 50 km/h (31.06 mph).
Remove the snow chains before driving on snow-free roads. It does not make sense to leave them on because the handling characteristics become worse. During this, the tires are stressed unnecessarily and the chain wear is particularly high.
Emergency Wheels
Spare Wheel Notes
If Necessary, Explain to the Customer the Information About Tires and Refer the Customer to the Owner's Manual.
The following notes listed also apply to spare wheels that are marked with a yellow sticker with the note "MAX 80 km/h" or "MAX 50 mph".
Note
The vehicle may have a spare wheel with the above mentioned sticker in place of an emergency wheel, depending on the vehicle equipment.
Emergency wheel/spare wheel is designed only for sporadic and brief use. Therefore it is to be replaced with the normal wheel again as soon as possible.
After mounting the emergency wheel/spare wheel, tire inflation pressure must be checked as soon as possible.
The tire pressures are listed on the tire pressure label on the inside of the fuel filler door and on the B-pillar on the driver side.
Always observe the speed rating on the spare tire on the emergency wheel ("MAX 80 km/h" or "MAX 50 mph").
It is not permissible to use snow chains on the emergency wheel for technical reasons.
If vehicle must be driven with snow chains, therefore the emergency wheel must be installed on the rear axle for a breakdown on the front axle. The rear wheel freed up must then be mounted in place of the faulty front wheel.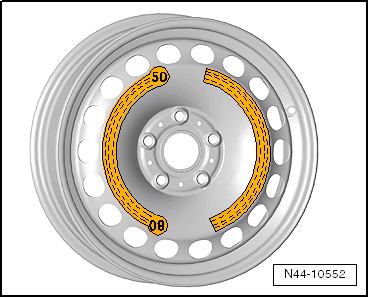 Refer to the Parts Catalog for replacement part number.
Special Tools
Special tools and workshop equipment required
Wheel Bolt Master Socket Set -T10101-
Wheel Bolt Master Socket Set -T10101A-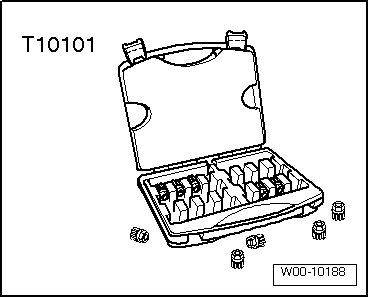 Wheel Bolt Master Socket Set -T40004-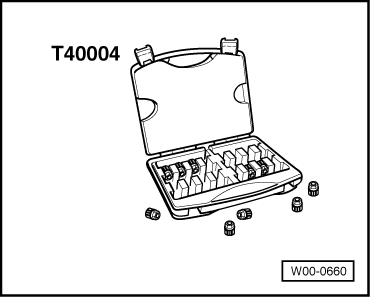 Wheel Bolt Master Socket Set -T40073-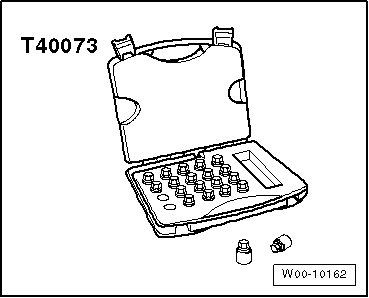 Torque Wrench 1332 40-200Nm -VAG1332-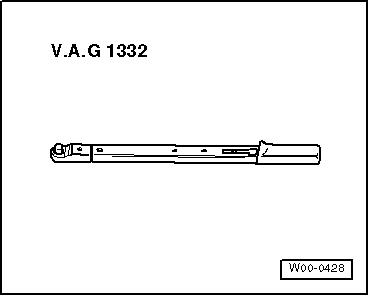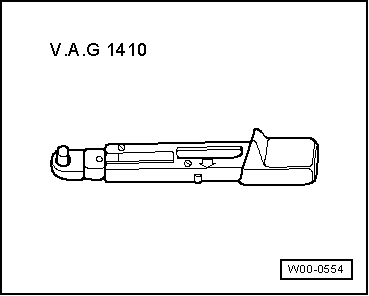 Wiring Harness Repair Set - Hot Air Blower -VAS1978/14A-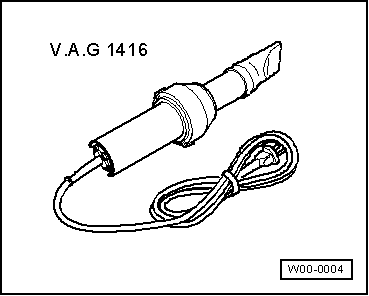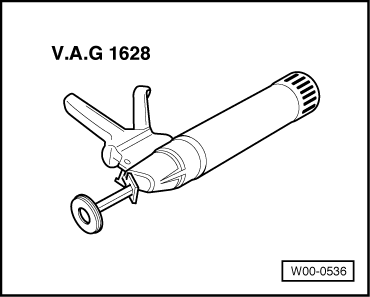 Trim Removal Wedge -3409-
Torque Wrench 1331 5-50Nm -VAG1331-
Wheel Bolt Master Socket Set -T10101-
Wax Spray -D 322 000 A2-
Optimol AT Paste -G 052 109 A2-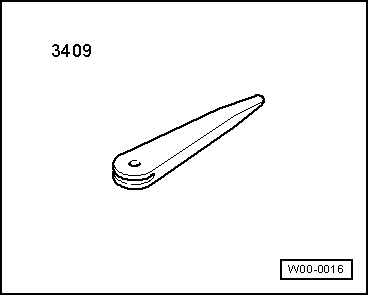 Edition 00053148821 C 02/04/2015 - ESP