Volkswagen Tiguan Service and Repair Manual: Run-Flat Tire PAX
Tires, Storing
Storage Room
Tire storage must be:
Dark,
Dry,
Cool and
Ventilated
WARNING
Stored tires must not come in contact with fuel, oil, grease or chemicals under any circumstances. Otherwise, the material in the tire will be damaged by chemical reactions which are not always visible.
This may lead to life-threatening situations when the car is driven.
However, tire damage occurs only when the reaction time of the chemicals is long. If a few drops of fuel land on a tire during a fill-up, this is harmless.
Tire Storage
Complete Wheels
Tires mounted on wheels can be stored flat, stacked on upon another. When doing this, always ensure that wheels are clean and dry. The air pressure should be raised to a maximum of 3 bar (43.5 psi).
Tires Without Wheels
Tires without wheels are best stored standing vertically. If tires lie stacked upon another for longer periods of time, they will be strongly pressed together. This makes mounting more difficult because the tires do not lie on the bead seat. If the tires are stored standing vertically, it is recommended to turn them every 14 days to avoid severe flattening.
Tires, Reinforced, Extra Load
Some time ago, the designation "Reinforced" was replaced with the designation "Extra Load" by some tire manufacturers. In countries outside Europe, this designation has been conventional for some time. There are no technical differences.
Some tire manufacturers also use the "XL" designation for Extra Load tires.
Tires with the designations "Reinforced" or "Extra Load (XL)" are the same.
V winter tires with XL designation have a higher load capacity than the V winter tires without this designation.
Higher speeds can be attained with XL V-winter tires, but the maximum speed of the V tires of 240 km/h (149.12 mph) is not permissible for every vehicle.
The Same Conditions Apply for These Tires as for V Winter Tires without Special Designation!
Winter tires
M+S-Symbol
On "M-and-S-tires", the tread pattern, tread compound or type are designed such that the handling characteristics in snow are improved compared to a normal tire. This is especially true when initiating or maintaining vehicle motion.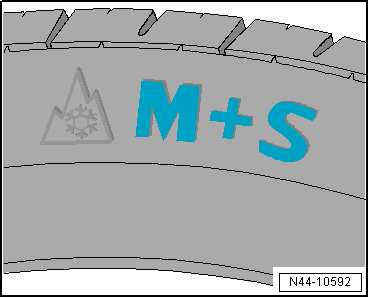 Snowflake Symbol
The "Snowflake" symbol denotes winter tires that meet industrial standards, which are based on the American snow tire definition. These tires provide exceptionally good safety and control performance in cold weather on snow and icy roads.
M+S Designation for 4x4/SUV Tires
Some vehicles come equipped with tires bearing the "M+S" symbol on the outer side. This is due to the fact that these vehicles were first introduced in North America, where "M+S" all-season tires are common. The "M+S" designation is officially defined by an EU-Regulation thusly: "A tire, whose profile and structure is designed to be more efficient in snow than a normal tire". Performance data for "M+S" denoted tires are neither defined, nor measured. The "Snowflake Symbol" (snowflake on the mountain symbol) is used in North America to specify the snow performance of winter tires. Only tires that meet or exceed these requirements may bear the "Snowflake Symbol" (snowflake on the mountain symbol).
Using Winter Tires
From May 1, 2006, the road traffic regulations were changed to include the following: "Vehicle equipment must be adapted to the weather conditions. This includes suitable tires and freeze protection in the windshield washer system."
Inform the customer that since May 1st, 2006, he or she is obligated to adapt vehicle equipment, especially tires, to winter weather conditions.
For the winter operation, it is recommended to mount winter tires in the sizes shown in the parts certificate table.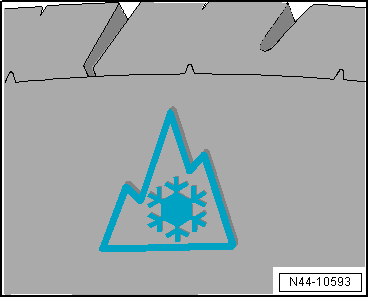 Always Applicable:
All tire sizes listed in the vehicle papers can also be driven as winter tires!
The handling characteristics may be affected due to the use of winter tires the resulting changes in wheel and tire dimensions. For this reason, driving speed must be adapted to the changed handling characteristics and road conditions.
To attain best handling characteristics winter tires must be mounted on all wheels.
If while mounting the winter tires, the vehicle is equipped with rims that are not factory-fitted, the following must be observed:
Wheels and wheel bolts are coordinated to each other!
When retrofitting to different wheels, the corresponding wheel nuts with the correct length and cup shape must be used. The secure seating of the wheels and the function of the brake system depend on it!
Winter tires with tread depth of less than 4 to 5 mm are only for limited use during winter operation.
In some countries, at least 4 mm tread depth are required for winter tires.
It is recommended to not use winter tires longer than six years. The aging process reduces the particular "winter characteristics" of these tires independently from the mileage.
Cup Shape Explanations
There are two shank designs: rounded and conical.
The rounded shank has a curved surface -arrow A-. This design was used for original rims.
The conical shank has a flat surface -arrow B-. This design is used partially on rims from the accessories program.
Wheel bolt with rounded shank
Wheel bolt with conical shank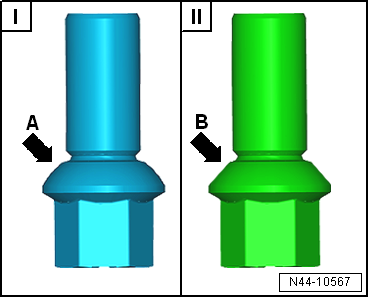 Vehicles with Tire Pressure Monitoring System
On vehicles with tire pressure monitoring system, the tire pressure must be resaved or adapted after each change from summer to winter tires or vice versa. Refer to the Owner's Manual.
Permission Stipulations in Germany
Only when using winter tires is it permitted that the highest speed attainable by the vehicle lies above the highest speed of winter tires specified by the speed rating.
In this case, a warning sign must be applied with the following content:
Attention, Winter Tires!
Maximum permissible speed ...km/h
Note
This warning sign must be in the driver's field of view!
Winter Tires with Speed Symbol V
The tire industry delivers winter tires with V-rating also. These tires can be applied up to the maximum permissible speed vmax = 240 km/h (149.13 mph) only under certain conditions.
Vehicles with V-tires:
Vehicles that require V-tires according to vehicle registration, can be driven with V winter tires without limitations up to speed rating "v"max = 240 km/h (149.13 mph).
Vehicles with W-, Y- or ZR-tires:
Vehicles that require W, Y, or ZR tires according to vehicle registration, cannot be driven with V winter tires up to "v"max = 240 km/h (149.13 mph) under certain conditions.
Why?
V summer tires and V winter tires without special designation guarantee 100% of the load capacity indicated by their Load Index ("LI") only up to a speed of 210 km/h (130.48 mph).
Speeds above 210 km/h (130.48 mph) are only possible if the maximum load capacity of the tire is not exceeded. The load capacity of the tire decreases as the speed increases.
The maximum permissible axle load and the attainable maximum speed of certain vehicles are so high that the load capacity of V tires is not sufficient for speeds above 240 km/h (149.13 mph).
Example: Tires 205/55 R 16 91V
The Load index (LI) 91 for this tire indicates a load capacity of 615 kg (1355.84 lbs) per tire up to 210 km/h (130.48 mph).
At 240 km/h (130.48 mph), the load capacity of this tire is reduced to only 560 kg (1234.58 lbs). For this reason, the axle load can only be maximum 1,120 kg (2469.17 lbs).
The vehicle has an additional axle load of 1,150 kg (2535.31 lbs) and an attainable maximum speed of 232 km/h (144.15 mph). This vehicle can be driven with V winter tires up to a speed of 230 km/h (142.91 mph).
This Applies to All V Winter Tires That Do Not Have a Special Designation.
Winter tires identified with Extra Load XL.
Permission Stipulations in Germany
Only when using winter tires is it permitted that the highest speed attainable by the vehicle lies above the highest speed of winter tires specified by the speed rating.
In this case, a warning sign in the view of the driver must be applied with the following content:
Attention, Winter Tires!
Maximum permissible speed ...km/h
Rolling Resistance Tires
Tire deformation when rolling causes the vehicle to loose energy that makes the rolling resistance noticeable.
Deformation is significantly lowered on rolling resistance tires due to new construction and low-wear surface mixtures.
Tires approved by manufacturer are rolling resistant and conform to all safety and customer relevant properties.
The following chapter contains the recommended tire manufacturers.
Tires, Aging
Even tires that look in good shape, new or hardly use and have sufficient tread depth and that are older than 6 years, can age caused by moisture and winter conditions.
Tire test show that through continual development, new rubber mixtures, modern raw materials and optimizing the tire profile and profile geometry, better tires are being produced.
The highly engineered vehicles plus constant growing customer expectations, demand economical tires that offer the highest degree of safety, driving dynamic and comfort.
Tires age as a result of physical and chemical processes whereby the function can be impaired. Tires which are stored for longer periods of time become harder and brittle faster than tires which are constantly in use on a vehicle.
Older tires may develop hairline cracks from aging.
When tires are in constant use, the kneading activates softeners in the rubber, preventing hardening and the development of cracks.
Therefore, one should note not just the tread depth but also the age of spare tires, stored tires and tires which are not permanently in use.
Tire age can be determined from the DOT code which contains, among other things, the tire's production date.
Example of a DOT number through 12/31/1999
DOT
......
5
0
9
<
stands for 199_
Production year last digit
Calendar week
In this example, the production date is the 50th week of 1999.
Example of a DOT number from 01/01/2000
DOT
......
0
1
0
0
Production year last two digits
Calendar week
In this example, the production date is the 01st week of 2000.
Recommendation
Using summer and winter tires that are more than 6 years old is not recommended. The aging process reduces the original characteristics. The gripping capabilities of winter tires are especially reduced.
When new tires are fitted, the spare tire may also be used if it is in flawless condition and is not more than 6 years old. The age of the tire has a great influence on the high-speed capability of the tire. The combination of a spare tire which is several years old with new tires is possible, but it can influence the car's handling.
Tires are constantly being further developed, this can lead, for example, to slight changes in the rubber compound, even if the tires are of the same make, size and tread.
All vehicles are factory-fitted with four identical tires and wheels.
Vehicles with FWD:
For driving safety reasons, tires of the same make and with the same tread should be mounted on one axle.
AWD vehicles:
Vehicles with AWD always must be equipped with four wheels that have tires of the same size, construction, tread pattern and make.
Tires, Replacing
Tires must be changed when:
the legal minimum tread depth of 1.6 mm is reached,
there is visible damage from mechanical damage,
Tires with Rim Protector
The tire industry produces tires with rim protector for light alloy wheels (rim protector). The rim protector prevents damage to the light alloy wheels caused by contact with curbs.
Using tires with rim protector on steel wheels with wheel covers may lead to the loss of the wheel cover while driving. The cover separates from its secure seating due to the flexing of the tire.
WARNING
When installing tires on steel rims, ensure only tires without rim protector are mounted.
The illustration shows the non-permissible combination of steel rim, wheel cover and tire with rim protector.
Rim protector
Rim flange of a steel rim
Wheel cover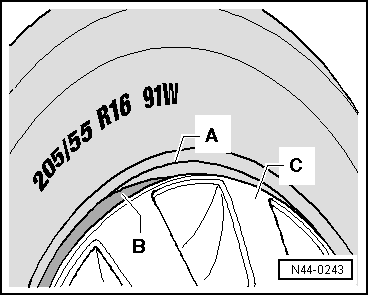 WARNING
This combination must not be mounted!
Tire Sizes, AWD Vehicles
Note the following regarding AWD vehicles:
Only tires having the same size and are manufactured by the same manufacturer and have the same profile may be used on the front and rear.
Different rolling circumferences will lead to tension on the drivetrain and increased tire wear with possible damage to the drivetrain.
This also applies to front and rear tires that are worn differently. In this case, install tires with a larger tread depth.
Increasing Temperature Due To Low Tire Pressure
The diagram shows the temperature behavior of a tire at speed of 180 km/h (111.84 mph).
Normal range: when maintaining the specified tire pressure, the temperature remains stable.
Danger zone: when the air pressure is 0.3 bar (4.35 psi) below specification, the temperature rises to above 120 ºC (248 ºF) at higher speeds.
Critical temperature limit: The tire defect is triggered.
T. Temperature in ºC
t - Driving time in minutes