Volkswagen Tiguan Service and Repair Manual: Wheel, Changing and Mounting
General Information
WARNING
The secure seating of the wheel bolts and the wheels is only ensured if the instructions and checks below are followed.
Note
After removing or installing one or multiple tires, the tire pressure monitoring system must be recalibrated for vehicles with tire pressure monitoring system.
Make sure the contact surfaces -arrows- on the brake rotor are free or corrosion and dirt.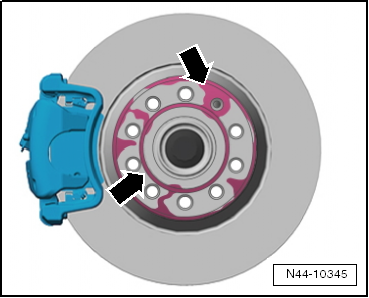 Make sure the contact surfaces -arrow- on the brake rotor center seat are free of corrosion and dirt.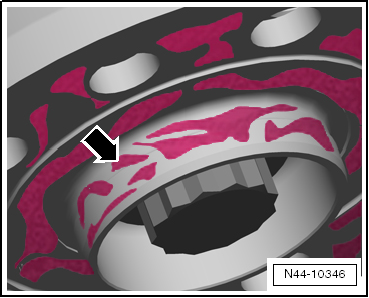 Make sure the contact surface -arrow- on the wheel inner side (rim) as well as the central seat in the rim is free of corrosion and dirt.
The spherical caps * in the wheel bolt openings and the wheel bolt threads must likewise be free of corrosion, dirt, oil or grease.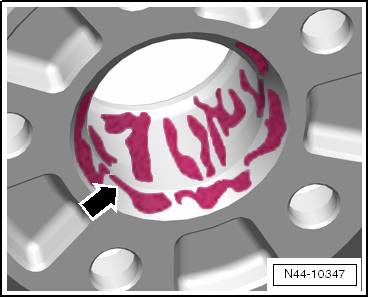 * The spherical cap is the curved surface of a section of a sphere.
Check whether the wheel bolts can be easily screwed in by hand. The threads of the wheel bolts must not touch the holes in the brake rotor -arrow-.
If the thread of the wheel bolt touches the hole -arrow-, turn the brake rotor accordingly.
If necessary, clean any dirt and corrosion, oil or grease off the surfaces and thread in the wheel hub and/or wheel bolts.
WARNING
Heavily corroded, difficult to turn or damaged wheel bolts must be replaced.
Wheel, Mounting
Coat the wheel centering seat with corrosion protection.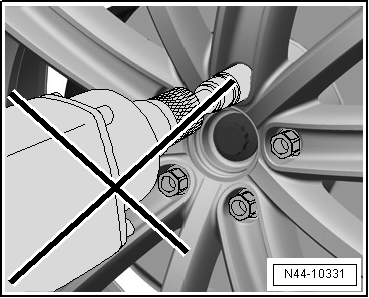 When mounting a wheel, tighten all wheel bolts uniformly by hand.
Tighten the wheel bolts diagonally to 30 Nm.
Lower the vehicle to the floor and tighten diagonally all wheel bolts with the wrench to the specified wheel bolt tightening specification → Chapter "Tightening Specification for Mounting Wheels".
WARNING
Never use an impact wrench to install the wheel bolts!
Wheel Centering Seat, Protecting against Corrosion
Applies to Light-Alloy and Steel Wheels
When a wheel is changed, the centering seat should be sprayed with Wax Spray to prevent corrosion between the centering seat and the wheel rim. Refer to the Parts Catalog.
Remove the wheel.
Thoroughly clean the centering seat on the wheel hub and the centering surface on the rim.
Apply wax in area of centering -arrow- using a brush.
Always make sure that only centering -arrow- is waxed and not rim contact surfaces. As a consequence, the brakes would become contaminated while driving and thereby result in poor braking.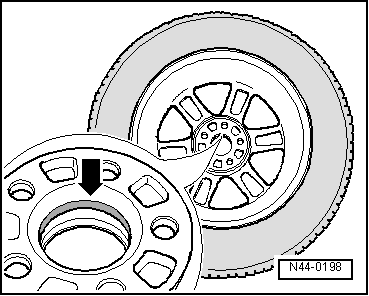 WARNING
Wheel bolts, contact surfaces of wheel/wheel hub and the threads in the wheel hubs must not have wax applied to them. Never apply lubricants or anti-corrosion treatment to threads in wheel hubs.
Install the wheel and tighten.