Volkswagen Tiguan Service and Repair Manual: Wheels and Tires
Vehicles with Tire Mobility Kit
The vehicles are equipped with a wheel repair kit.
The wheel repair kit is stored in the luggage compartment behind the right trim panel. It contains a bottle of tire sealant -2- next to the compressor -1-.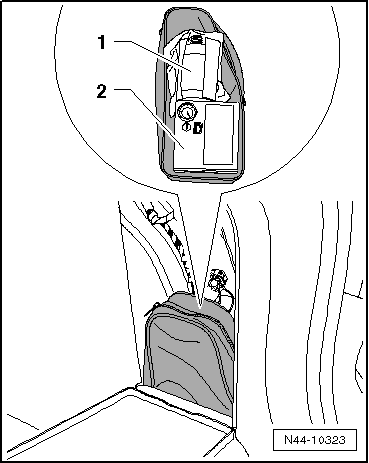 Tire Sealant
Therefore, the expiration date is indicated on the bottle -arrow-.
In this example, the expiration date is 05/2003, it must be replaced.
If the bottle was opened, for example for a flat tire, it must also be replaced.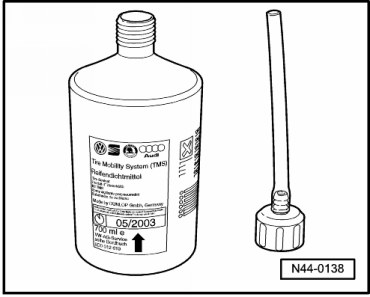 Tires, Removing
Tires which have been filled or sealed with tire sealant, must be drained before removing from wheel.
WARNING
Prevent tire sealant from making contact with eyes and skin.
It is harmful to health, can cause eye irritation and allergies.
Wear protective gloves and glasses when removing tires.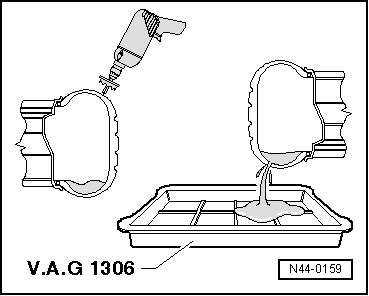 Set wheel on an even surface.
Remove tire valve insert.
Carefully drill hole in tire in area of shoulder using suitable drill or cutter.
Hold wheel over drip tray and allow tire sealant to drain.
Remove tire from rim.
Clean wheel rim, for example using a damp cloth.
Tires, Mounting
Mounting wheels with tire pressure monitoring system.
Make sure wheel rim is clean.
Using the Valve Fitting Tool -VAS6459--1-, install a new tire valve.
Remove the valve insert.
Inflate tire to approximately 3 to 4 bar (43 to 58 psi), tire bead must slide audibly over rim hump when doing this.
Correct inflation pressure to the specified pressure.
Balance wheel.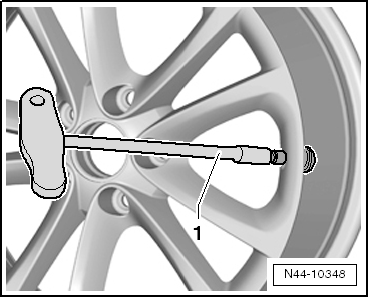 Tire Sealant, Disposing
Tire sealant or residue from it must not be mixed with other wastes/fluids
Accumulating fluid residue from tire sealant must be collected and placed in a plastic container. The plastic containers can be sent for recycling together with the tire sets (if the expiration date has passed).
The return or recycling can take place using the existing workshop disposal systems
Contact the manufacturer or ask the disposal contractor used by your distribution center or importer.