Volkswagen Tiguan Service and Repair Manual: Subframe, Lowering
Special tools and workshop equipment required
Locating Pins -T10096-
Engine and Gearbox Jack -VAS6931-
Removing
Turn the steering wheel in the straight position and remove the ignition key so that the steering wheel lock engages.
Vehicles with "Keyless Access" Keyless Locking and Starting System
Switch the ignition off and open the driver door so the steering wheel lock engages.
Continuation for All Vehicles
Remove the nuts -arrows- and the footwell trim panel.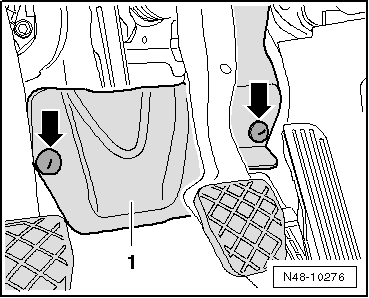 Remove the bolt -1- and remove the universal joint -2- from the steering gear.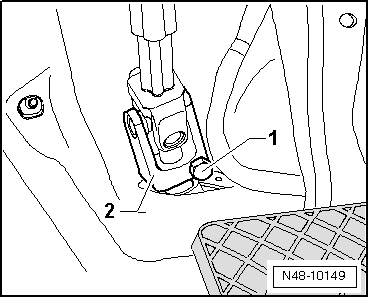 Caution
If the universal joint is separated from the steering gear, the following work cannot be performed:
Connect the battery.
Switching on the ignition
Turning the steering gear
Turning the steering column.
These points must be observed since performing these actions could cause irreparable damage.
Remove the lower noise insulation.
Remove the exhaust system bracket from the subframe -arrows-.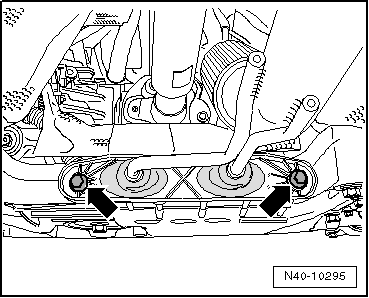 Remove the bolts -13- and then remove the pendulum support from the transmission.
Remove the coupling rods from the stabilizer bar.
Secure the subframe.
Place the Engine and Gearbox Jack -VAS6931- under the subframe.
Place for example a block of wood -1- between Engine/Gearbox Jack -VAG1383A- and subframe.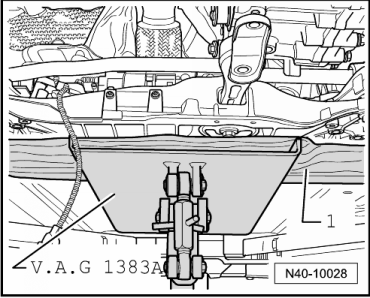 Remove the bolts -9 and 10- and lower the subframe maximum 10 cm.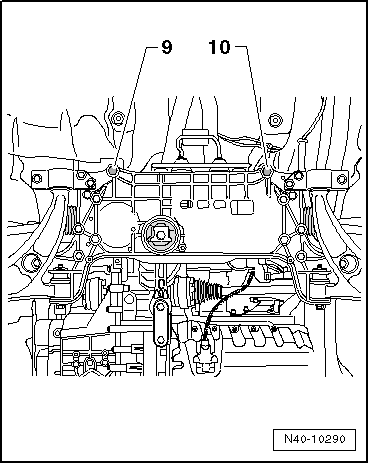 Note
Be careful not to overstretch the electric wiring for the steering.
Installing
Install in reverse order of removal.
Install the lower noise insulation.
Note
Make sure the ball joint boot is not damaged or twisted.
If the steering wheel is still crooked after using the Locating Pins -T10096- then an axle alignment is necessary. In this case the record it in the vehicles axle alignment log.
Tightening Specifications
Component
Tightening Specification
Mounting bracket to body
70 Nm + 180º
Stabilizer bar to coupling rod

Use new nut
Counterhold at joint pin inner multi-point fitting

65 Nm
Universal joint to steering gear
30 Nm
Exhaust system bracket to subframe
Tightening Specifications, Subframe to Body
| | |
| --- | --- |
| Bolt | Tightening Specification |
| M12 x 1.5 x 90 | 70 Nm + 180º |
| M12 x 1.5 x 100 | 70 Nm + 180º |
| M12 x 1.5 x 110 | 70 Nm + 90º |
Tightening Specifications, Pendulum Support to the Transmission
| | |
| --- | --- |
| Bolt | Tightening Specification |
| M10 x 35 | 50 Nm + 90º |
| M10 x 75 | 50 Nm + 90º |
| M12 x 1.5 x 85 | 60 Nm + 90º |