Volkswagen Tiguan Owners Manual: Storage compartment in the front center armrest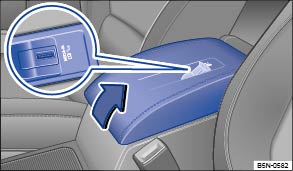 Fig. 114 In the front center armrest: Storage compartment.

Read and follow the introductory information and safety information first
⇒

Introduction to the subject 
To open, press release and lift up the center armrest as far as it will go in the direction of the arrow ⇒ Fig. 114 .
To close, put the center armrest down.


Warning
The center armrest can restrict the driver's arm movement and cause crashes and serious personal injury.
Always keep storage compartments in the center armrest closed while driving.


Warning
Never let a passenger, especially a child, ride on the center armrest.

There may be a factory-installed CD changer, the Apple iPod
®
adapter, the USB port or the multimedia jack (MEDIA IN) in the storage compartment in the front center armrest ⇒Booklet
Radio
, or ⇒Booklet
Navigation system
,.