Volkswagen Tiguan Service and Repair Manual: Sunroof Motor, Removing and Installing
Removing
Remove front light and control unit.
WARNING
A flat cable is bonded to the brace in the lamp opening in some versions. Loosen the flat cable from the brace and press it to the side when removing the sunroof opening. Make sure the flat cable is not damaged.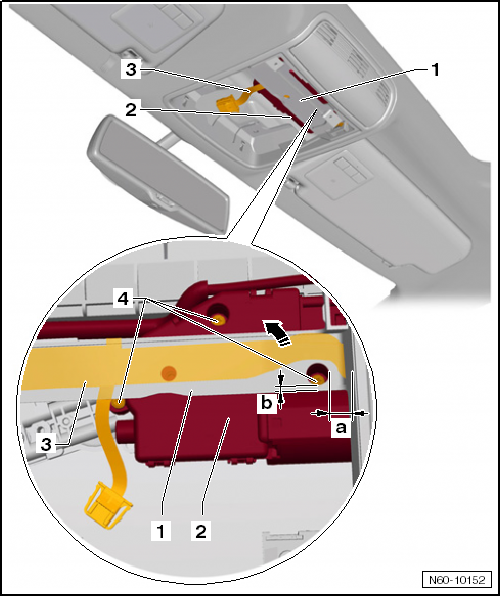 Loosen the flat cable -3-, if equipped, from the brace -1- and pull it to the side -arrow-.
It is necessary to drill a 10 mm hold in the brace -1- so that the tool and get to the right bolt -4- on the sunroof motor -2-.
Dimension -a- = 10 mm
Dimension -b- = 2 mm
Caution
Do not damage the sunroof motor underneath when drilling the hole. A drill with a stop that is adjusted to create a 3 mm deep hole may be used.
Remove the bolts -4-.
Lower the sunroof motor slightly and tip it forward.
Disconnect the connector.
Installing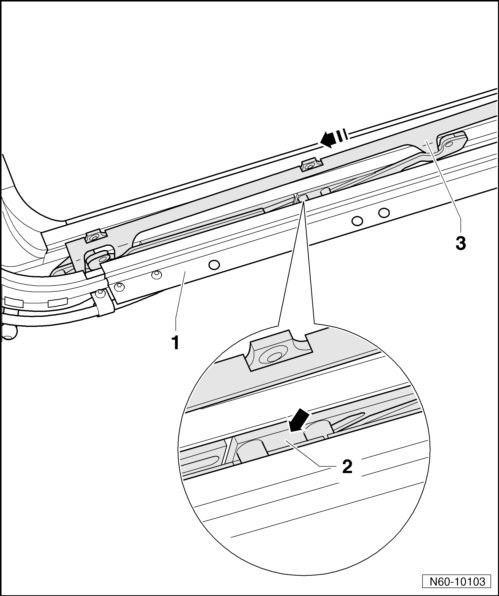 With the Front Glass Panel Removed:
Push the tilting mechanism on both sides all the way forward until it has completely lowered.
Press the tilting mechanism only on those guiding slot locations -arrow--2-, and not on the rails -3-.
With the Front Glass Panel Installed:
Install the sunroof motor -2- and tighten the screws -arrow- to 3.5 Nm.
Connect the electrical connector -1- to the sunroof motor -2-.
Install the headliner.
After completing all the work, perform an sunroof motor adaptation.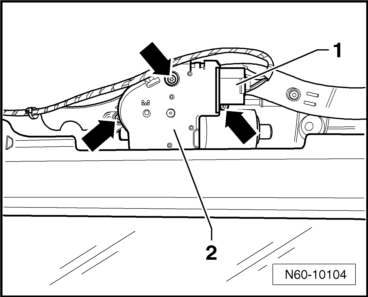 Volkswagen Tiguan Owners Manual
Volkswagen Tiguan Service and Repair Manual
© 2018-2023 Copyright www.vwtiguan.org - 0.0117