Volkswagen Tiguan Owners Manual: Installing the front towing eye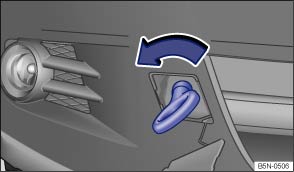 Fig. 212 In right front bumper: Screwing in towing eye.

Read and follow the introductory information and safety information first
⇒

Introduction to the subject 
The attachment point for the towing eye is located on the right in the front bumper.
Always keep the towing eye in the vehicle and stow it securely.
Read and follow the notes about towing ⇒ Tips on towing .
Installing the towing eye
Take the towing eye, the lug wrench, and the screwdriver out of the vehicle tool kit in the luggage compartment ⇒ Vehicle tool kit .
Insert the flat blade of the screwdriver into the slot between the cover and the bumper.
Carefully pry out the cover. A slightly stronger force might be required. Leave the cover hanging.
Screw the towing eye counterclockwise into the threaded hole as far as it will go (arrow) ⇒ Fig. 212 ⇒ . Use the lug wrench to turn and tighten the towing eye.
When towing is complete, unscrew the towing eye clockwise to remove it and replace the cover.
Clean the towing eye and lug wrench if necessary and put them back in the vehicle tool kit in the luggage compartment.


Note
Always make sure the towing eye is screwed all the way into threaded hole so that it is secure. Otherwise, it could be ripped out while your vehicle is being towed.
Volkswagen Tiguan Owners Manual
Volkswagen Tiguan Service and Repair Manual
© 2018-2023 Copyright www.vwtiguan.org - 0.0035