Volkswagen Tiguan Owners Manual: Wheel cover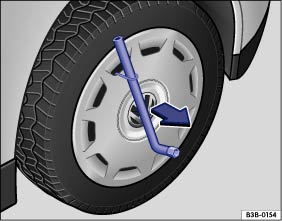 Fig. 190 Pulling the wheel cover off.

Read and follow the introductory information and safety information first
⇒

Introduction to the subject 
Pulling off the wheel cover
Take the lug wrench and wire clip out of the vehicle tool kit ⇒ Vehicle tool kit .
Place the wire clip hook in one of the openings of the wheel cover.
Slide the lug wrench through the clip ⇒ Fig. 190  and pull the wheel cover off in the direction of the arrow.
Installing the wheel cover
Before installing the wheel cover, the anti-theft wheel bolt must be screwed into position ⇒ Fig. 193②  or ③. Otherwise, the wheel cover cannot be installed.
Make sure that the valve cutout is aligned with the valve ⇒ Fig. 193① , and press the wheel cover onto the wheel rim. Make sure that the wheel cover is latched onto the rim along the entire circumference.
Volkswagen Tiguan Owners Manual
Volkswagen Tiguan Service and Repair Manual
© 2018-2023 Copyright www.vwtiguan.org - 0.0036