Volkswagen Tiguan Owners Manual: Indicator lamps and fuel gauge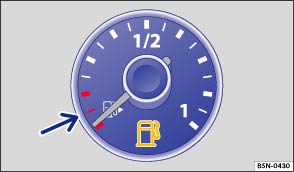 Fig. 151 In the instrument cluster: Fuel gauge.

Read and follow the introductory information and safety information first
⇒

Introduction to the subject 
Lights up
Gauge position

⇒ Fig. 151 
Possible cause or meaning ⇒ 
Proper response
Marking (arrow)
Fuel tank almost empty.

Running on reserve ⇒ Fuel capacities .
Time to refuel ⇒ .
Fuel filler cap not properly closed.
Stop and close fuel filler cap properly.
When the ignition is switched on, several warning and indicator lights come on briefly for a function check. They go out after a few seconds.
Fuel filler cap not properly closed

If the indicator light

comes on or you see a text message in the instrument cluster display indicating that the fuel filler cap is not properly closed, stop the vehicle in a safe place and switch off the engine and the ignition.
Open the fuel filler flap and take the fuel filler cap off the filler neck. Then put the fuel filler cap back on the filler neck and screw it on clockwise until you clearly hear a clicking sound. Close the fuel filler flap.
After switching on the ignition, the indicator light

may stay on or the text message may still appear in the instrument cluster display, even if the fuel filler cap is now properly closed. This is normal and no reason to take your vehicle in for service.
If, however, the malfunction indicator light

also comes on, drive to your nearest authorized Volkswagen dealer or authorized Volkswagen Service Facility and have the fuel system and the engine checked.


Warning
Driving with a fuel tank that is almost empty can lead to stalling in traffic, a collision, and serious personal injuries.
When the fuel tank is almost empty, fuel supply to the engine can be interrupted, especially when driving over bumps, across slopes, and up and down hills.
Steering and braking assistance as well as ESC and related systems will not work if the engine sputters or stalls due to lack of fuel.
Always refuel when the tank is 1/4 full to reduce the risk of running out of fuel and stalling in traffic.


Note
Failure to heed warning lights or text WARNINGS can result in vehicle damage.
Never drive until the fuel tank is completely empty. The irregular fuel supply can cause the engine to misfire. This allows unburned fuel to get into the exhaust system and damage the catalytic converter.

The small arrow next to the gas pump symbol in the fuel gauge ⇒ Fig. 151  shows the side of the vehicle with the fuel filler flap.