Volkswagen Tiguan Owners Manual: Refueling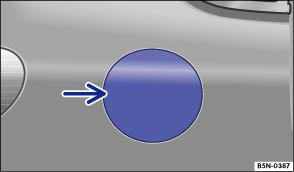 Fig. 152 Right rear side of vehicle: Opening the fuel filler flap.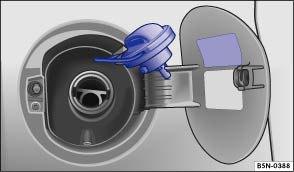 Fig. 153 Fuel cap placed on the open fuel filler flap.

Read and follow the introductory information and safety information first
⇒

Introduction to the subject 
Before refueling, always switch off the engine, the ignition, and all cell phones, and leave them switched off until refueling is complete.
Opening the fuel filler cap
Unlock the vehicle from the outside with the vehicle key or press the central locking button in driver door to unlock the vehicle from the inside ⇒ Power locking and closing system .
The fuel filler flap is located at the right rear of the vehicle.
Press on the back part of the fuel filler flap ⇒ Fig. 152  (arrow) and fold open.
Unscrew fuel cap counterclockwise and remove. Use the receptacle on the filler flap hinge to hold the cap while refueling ⇒ Fig. 153 .
Refueling
The correct fuel grade for your vehicle ⇒ Fuel  is listed on a sticker on the inside of the fuel filler flap ⇒ Fig. 153 .
The fuel tank is full when the automatic filler nozzle pump switches off the first time ⇒ .
Do not try to add fuel after the pump stops! Topping off the tank in this way may fill the expansion space that the tank needs and cause fuel to overflow, for example, if it gets warmer outside.
Closing the fuel filler cap
Screw the fuel cap clockwise onto the fuel filler neck until you hear it click into place.
Close the fuel filler flap until you hear it latch shut. The fuel filler flap must be flush with the vehicle body.


Warning
Spilled fuel can cause fires, explosions, burns, and other severe injuries.
Always stop refueling once the pump nozzle switches off so that the tank does not overflow.


Note
Remove fuel spills from all vehicles surfaces immediately to help prevent damage to the paint, tires, and wheel housings.

Fuel spills may pollute the environment.