Volkswagen Tiguan Owners Manual: Center armrest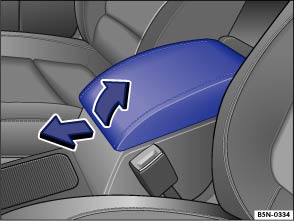 Fig. 49 Front center armrest.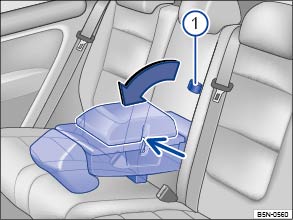 Fig. 50 Folded down rear center armrest with storage compartment (arrow).

Read and follow the introductory information and safety information first
⇒

Introduction to the subject 
Front center armrest
There is a storage compartment under the front center armrest ⇒ Storage areas .
To open the center armrest, pull the armrest and latch upward in the direction of the arrow ⇒ Fig. 49 .
To close the center armrest, push it down until it latches in place.
To move the center armrest forwards and backwards, pull it forward ⇒ Fig. 49  or slide it backward until it clicks into place.
Rear center armrest
There may be a fold-down armrest in the backrest of the center rear seat ⇒ Cup holders in the rear center armrest .
To fold down the center armrest, push the head restraint of the middle seat all the way down ⇒ Adjusting the seating position  and fold the center armrest forward using the pull strap ⇒ Fig. 50① .
The cushion can be pulled off the center armrest from above to access the cup holders beneath it ⇒ Cup holders in the rear center armrest . When the cushion is replaced, the notch in the cushion must be on the left⇒ Fig. 50  (small arrow) and securely latched.
To fold up, push the center armrest up as far as it will go.


Warning
The center armrest can restrict the driver's arm movement and cause crashes and serious personal injury.
Always keep storage compartments in the center armrest closed while driving.
Never let a passenger, especially a child, ride on the center armrest. Improper seating position can increase the risk of serious personal injury in a crash.
Never put hot drinks or other liquids in the cup holder. Hot liquids can spill when the vehicle is moving as well as during braking or other sudden maneuvers.


Note
When the center armrest is folded up, the armrest cushion could be soiled or damaged by items in the luggage compartment.