Volkswagen Tiguan Owners Manual: Closing the rear hatch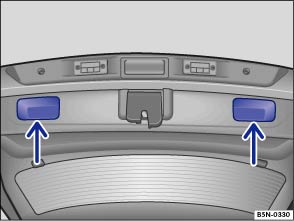 Fig. 31 Opened rear hatch: Recessed grips for closing.

Read and follow the introductory information and safety information first
⇒

Introduction to the subject 
Closing the rear hatch
Grasp one of the recessed grips in the trim of the rear hatch ⇒ Fig. 31  (arrows).
Pull the rear hatch down and close it securely so that the latch engages.
Check the rear hatch to make sure it is securely latched.
Locking the rear hatch
If you unlock the vehicle with the vehicle key, but do not open either a door or the rear hatch in about the next 30 seconds, the vehicle is automatically locked again. This feature helps prevent you from leaving the vehicle unlocked unintentionally.
It is only possible to lock the rear hatch when it is securely closed and latched.
The power locking system also locks the rear hatch.
If the rear hatch of a locked vehicle is unlocked with the button on the remote control vehicle key, it will lock again right after it is closed.
A closed but unlocked rear hatch automatically locks at speeds about 5 mph (10 km/h).


Warning
Improper or unsupervised closing of the rear hatch can cause severe injuries. Never close the hatch when someone is in the way.
Never leave your vehicle unattended or let children play around your vehicle, especially with the rear hatch left open. A child could crawl into the vehicle and pull the rear hatch shut, becoming trapped and unable to get out. A closed vehicle can become very hot or very cold depending on the season. Temperatures can quickly levels that can cause unconsciousness or death, particularly to small children.

Make sure that the remote control vehicle key is not in the luggage compartment before closing the rear hatch.
Volkswagen Tiguan Owners Manual
Volkswagen Tiguan Service and Repair Manual
Tesla Model Y (2020-{YEAR}) Owner's Manual
© 2018-2023 Copyright www.vwtiguan.org - 0.0147