Volkswagen Tiguan Service and Repair Manual: Subframe with Steering Gear, Removing and Installing
Special tools and workshop equipment required
Puller - Ball Joint -3287A-
Torque Wrench 1332 40-200Nm -VAG1332-
Removing
Turn the steering wheel in the straight position and remove the ignition key so that the steering wheel lock engages.
Vehicles with "Keyless Access" Keyless Locking and Starting System
Switch the ignition off and open the driver door so the steering wheel lock engages.
Continuation for All Vehicles
Remove battery and the battery tray.
Disconnect the cable -1- from the E-box.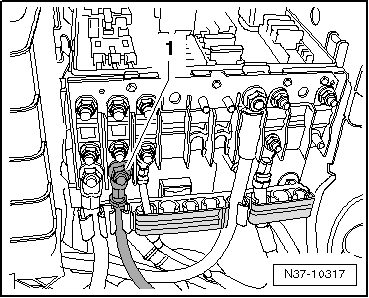 Disconnect the ground wire -2-.
Disconnect the connector -3-.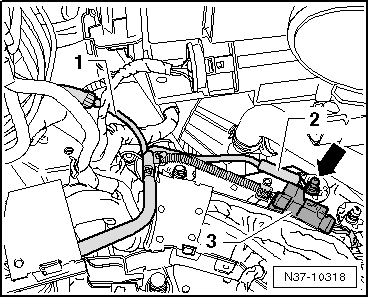 Guide the wiring harness out of all the brackets on the longitudinal so it can be removed together with the steering gear.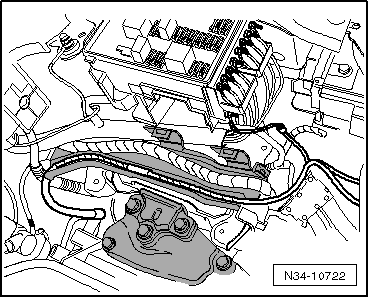 Remove the nuts -arrows- and the footwell trim panel.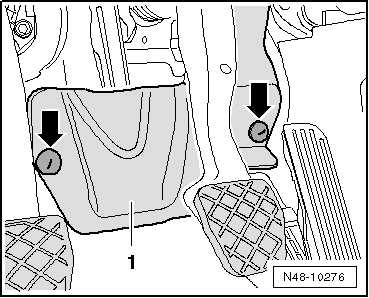 Remove the bolt -1- and remove the universal joint -2- from the steering gear.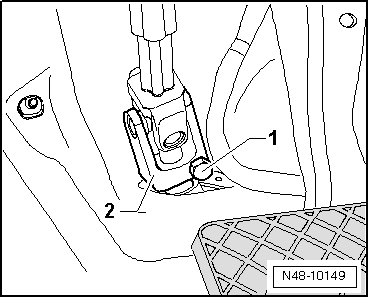 Caution
If the universal joint is separated from the steering gear, the following work cannot be performed:
Connect the battery.
Switching on the ignition
Turning the steering gear
Turning the steering column.
These points must be observed since performing these actions could cause irreparable damage.
Remove the front wheels.
Remove the lower noise insulation.
Disconnect the connector for the service interval extension to the oil pan.
Remove the exhaust system bracket from the subframe -arrows-.
Remove coupling rods from stabilizer.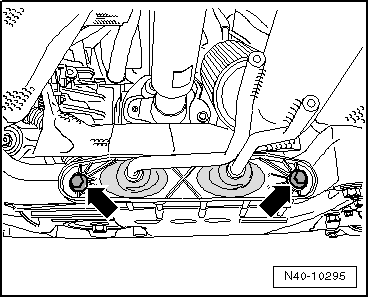 Remove the nuts -arrows-.
Loosen the nut of the tie rod end, but do not remove yet.
To protect the thread, screw the nut on the pin a few turns.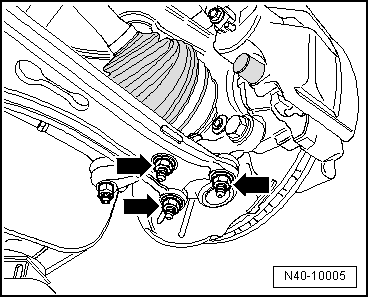 Press off tie rod end from wheel bearing housing with Puller - Ball Joint -3287A- and then remove nut.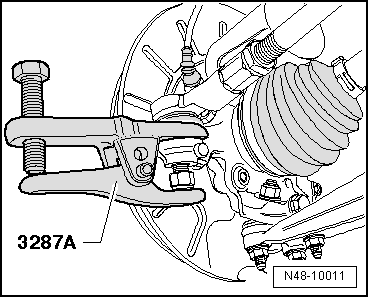 Remove the bolts -13- and then remove the pendulum support from the transmission.
Secure the subframe.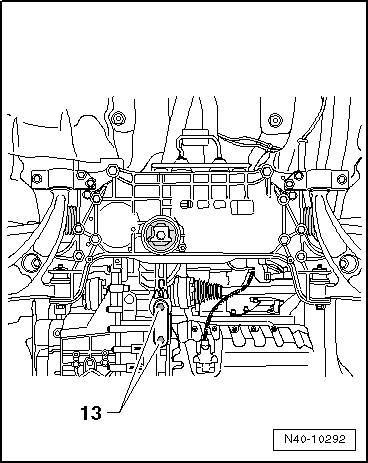 Place the Engine/Gearbox Jack -VAG1383A- under the subframe.
Place a block of wood -1-, for example, between Engine/Gearbox Jack -VAG1383A- and the subframe.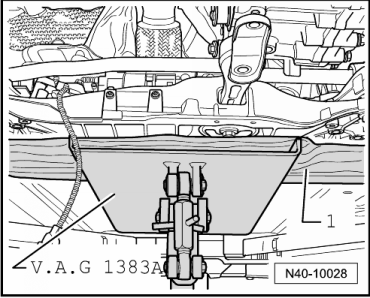 Remove the bolts -9 and 10- and slightly lower the subframe. Observe electrical wires when doing this.
Lower the Engine/Gearbox Jack -VAG1383A- and guide the steering gear wiring harness back.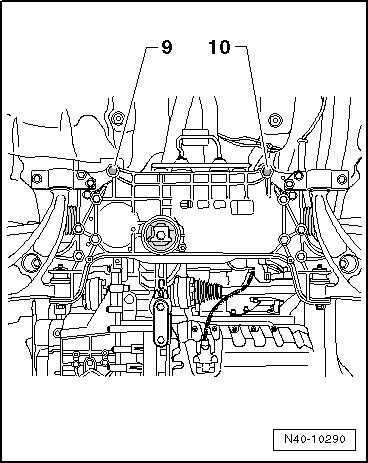 Secure the subframe on the Engine and Gearbox Jack -VAS6931- with the accompanying strap.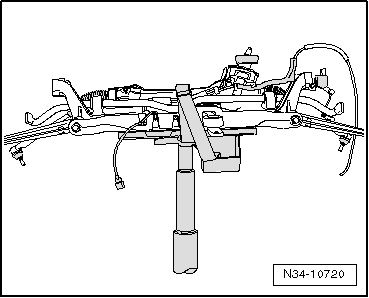 Installing
Install in reverse order of removal.
Install the battery tray and the battery.
Install and tighten the noise insulation.
If the steering wheel is still crooked after using the Locating Pins -T10096- then an axle alignment is necessary. In this case the record it in the vehicles axle alignment log.
Tightening Specifications
Component
Tightening Specification
Mounting bracket to body
70 Nm + 180º
Stabilizer bar to subframe
20 Nm + 90º
Stabilizer bar to coupling rod

Use new nut
Counterhold at joint pin inner multi-point fitting

65 Nm
Tie rod end to wheel bearing housing
50 Nm
Ball joint to aluminum control arm:

Use new nuts
Tighten only in curb weight position.

60 Nm
Ball joint to sheet steel control arm

Use new nuts
Tighten only in curb weight position.

100 Nm
Universal joint to steering gear
30 Nm
Exhaust system bracket to subframe.
Tightening Specifications, Subframe to Body
| | |
| --- | --- |
| Bolt | Tightening Specification |
| M12 x 1.5 x 90 | 70 Nm + 180º |
| M12 x 1.5 x 100 | 70 Nm + 180º |
| M12 x 1.5 x 110 | 70 Nm + 90º |
Tightening Specifications, Pendulum Support to the Transmission
| | |
| --- | --- |
| Bolt | Tightening Specification |
| M10 x 35 | 50 Nm + 90º |
| M10 x 75 | 50 Nm + 90º |
| M12 x 1.5 x 85 | 60 Nm + 90º |