Volkswagen Tiguan Service and Repair Manual: Panorama Sunroof
Tools
Special tools and workshop equipment required
Roller -3356-
Torque Wrench 1783 - 2-10Nm -VAG1783-
Adhesive Strip Remover -VAS6349-
Function
The panorama sunroof only works when the ignition is switched on.
After the ignition is switched off, these functions are available until the driver or passenger door is opened.
The opening of front glass panel is pre-selected using the rotary knob -1-.
Opening the glass sunroof in the convenience position -4- prevents most driving noise that may occur when open completely.
The glass sunroof can be tilted and closed by pulling or pushing the rotary switch.
The button to open -2- and close -3- the sun shade are integrated in the rotary knob -1-.
The panorama sunroof is equipped with a closing force limit. When an obstruction is met during the closing operation from the lifting or sliding position, the glass panel automatically opens again.
There is also an emergency closing function. If there are problems closing the panorama sunroof, it can be forced closed by pulling on the back end -arrow- of the rotary knob. The knob must be in the "sunroof closed" position.
For the emergency close function, the closing force limit is deactivated.
The sunroof motor has overheat protection, which activates under different conditions. After the sunroof motor has cooled down, it can be operated again.
If there is a malfunction in the electrical system, the glass panel and sunshade can be moved manually.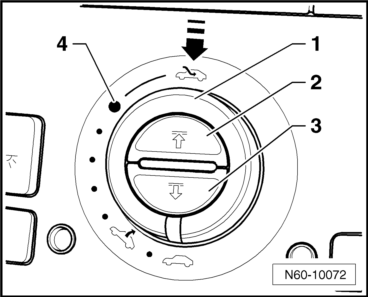 Panorama Sunroof Basic Setting
Note
Whenever a glass panel, a motor, the tilting mechanism or the sun shade is replaced, it is necessary to perform a basic setting for the appropriate motor.
The adaptation is done using the Vehicle Diagnostic Tester.
Select "Guided Functions" in the Vehicle Diagnostic Tester.
Vehicle Electrical System Control Module 2
Panorama Sunroof Basic Setting
Overview - Panorama Sunroof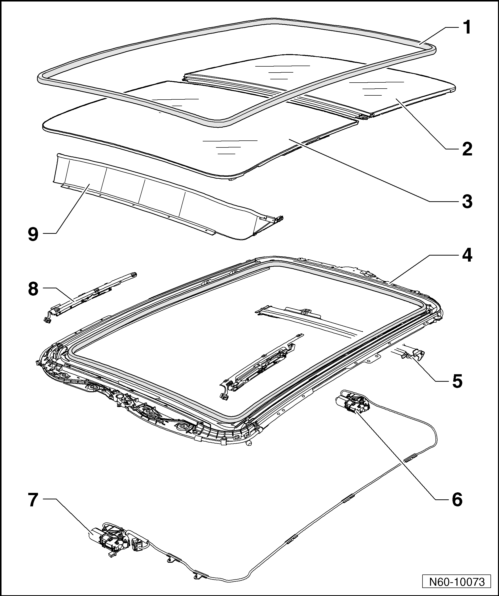 Outer Seal
Rear Glass Panel

Removing and installing.
Adjusting.

Front Glass Panel

Removing and installing.
Adjusting.

Frame

Overview.
Removing and installing.

Sun Shade
Sunshade Motor

Removing and installing.
Initialization.

Sunroof Motor

Removing and installing.
Initialization.

Tilting Mechanism
Wind Deflector