Volkswagen Tiguan Owners Manual: Replacing light bulbs in taillight in the rear hatch

Fig. 205 In the rear lid: removing the cover and the bulb holder.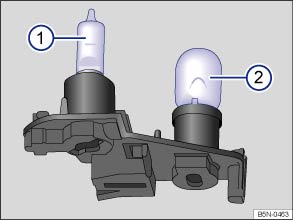 Fig. 206 Bulb holder with backup light bulb ②.

Read and follow the introductory information and safety information first
⇒

Introduction to the subject 
Please carry out each step only in the order specified:
1.
Please review and follow the checklist ⇒ Information on light bulb replacement .
2.
Open the rear hatch ⇒ Rear hatch .
3.
Using the screwdriver from the vehicle tool kit ⇒ Vehicle tool kit , carefully pry the cover off with the flat blade of the screw driver inserted in the opening ⇒ Fig. 205 A.
4.
Remove the red locking mechanism ⇒ Fig. 205② B as illustrated and disconnect the electrical connector with the lever pressed down ⇒ Fig. 205①  B.
5.
Press the locking tab ⇒ Fig. 205④ B in the direction of the arrow and remove the bulb holder ⇒ Fig. 205③ B.
6.
Replace burned out rear light bulbs ⇒ Fig. 206②  with bulbs that are identical to the ones being replaced.
7.
Insert the bulb holder. You must hear the locking tab click into place.
8.
Insert the electrical connector into the bulb holder until it clicks into place. Press the red locking mechanism ⇒ Fig. 205② B back in.
9.
Insert the cover. The cover must lock into place and be secure.
Volkswagen Tiguan Owners Manual
Volkswagen Tiguan Service and Repair Manual
Tesla Model Y (2020-{YEAR}) Owner's Manual
© 2018-2023 Copyright www.vwtiguan.org - 0.0035