Volkswagen Tiguan Owners Manual: Folding chocks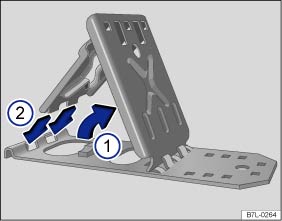 Fig. 188 Unfolding the folding chock.

Read and follow the introductory information and safety information first
⇒

Introduction to the subject 
The folding chock is in the vehicle tool kit ⇒ Fig. 187 .
Setting up the folding chock
Raise the support plate ⇒ Fig. 188① .
Insert both lugs of the securing plate completely in the elongated holes of the base plate.
Proper use
The folding chock can be used to block the wheel diagonal to the wheel which is to be changed.
The folding chock must be placed directly in front of and behind the wheel and may be used only on firm surfaces.


Warning
Improper setup or improper use of the folding chocks can cause accidents and injuries.
Never use damaged folding chocks.
Never use folding chocks to secure the vehicle on slopes.
Volkswagen Tiguan Owners Manual
Volkswagen Tiguan Service and Repair Manual
© 2018-2023 Copyright www.vwtiguan.org - 0.0114