Volkswagen Tiguan Owners Manual: Emergency unlocking of the rear hatch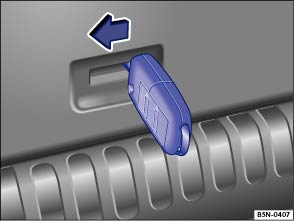 Fig. 182 View from luggage compartment: Emergency unlocking rear hatch with the remote control vehicle key.

Read and follow the introductory information and safety information first
⇒

Introduction to the subject 
If necessary, fold the rear seat backrest forward ⇒ Seat functions .
Remove luggage in order to reach the rear hatch from the inside.
Insert the key bit into the opening in the rear hatch trim and press in the direction of the arrow ⇒ Fig. 182  to unlock the rear hatch.
Volkswagen Tiguan Owners Manual
Volkswagen Tiguan Service and Repair Manual
© 2018-2023 Copyright www.vwtiguan.org - 0.0117