Volkswagen Tiguan Owners Manual: Manually locking the passenger door and rear doors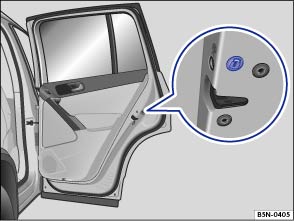 Fig. 180 On the front side of the right rear door: Emergency lock, covered by a rubber seal.
Fig. 181 On the front side of the right rear door: Manual vehicle locking with the key bit in the vehicle key.

Read and follow the introductory information and safety information first
⇒

Introduction to the subject 
The passenger door and rear doors can each be locked manually. This will not activate the anti-theft alarm system.
Remove the rubber seal on the front side of the door. The seal is marked with a lock ⇒ Fig. 180 .
Unfold the key bit from the remote control vehicle key ⇒ Vehicle key set .
Insert the key bit horizontally into the opening and press the small colored lever forward ⇒ Fig. 181 .
Reinsert the rubber seal and completely close the door.
Make sure that the door is locked.
Repeat the procedure for other doors if necessary.
Have the vehicle checked immediately by an authorized Volkswagen dealer or an authorized Volkswagen Service Facility.

Doors can be unlocked and opened separately from inside the vehicle by pulling the door handle once. If necessary, pull the door handle again ⇒ Power locking and closing system .
Volkswagen Tiguan Owners Manual
Volkswagen Tiguan Service and Repair Manual
Tesla Model Y (2020-{YEAR}) Owner's Manual
© 2018-2023 Copyright www.vwtiguan.org - 0.0092