Volkswagen Tiguan Owners Manual: Parking perpendicular to the road (Mode 1)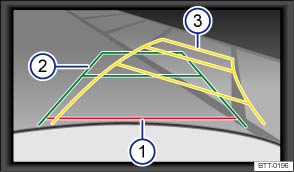 Fig. 141 On the screen: Orientation lines for the parking area behind the vehicle.

Read and follow the introductory information and safety information first
⇒

Introduction to the subject 
Orientation lines overview
Meaning of the orientation lines projected on the screen ⇒ Fig. 141 . All distances of the orientation lines refer to a vehicle on a level surface.
Red Safety distance: Area up to about 16 inches (40) cm behind the vehicle on the road.
Green Vehicle extension (somewhat wider) toward the rear. The green area ends about 6 feet (2 meters) behind the vehicle on the road.
Yellow The extension of the vehicle to the rear shows the vehicle path as determined by the position of the steering wheel. The yellow area ends about 10 feet (3 meters) behind the vehicle on the road.
Parking
Position the vehicle in front of a parking space and shift into Reverse.
Slowly back up and steer in so that the yellow orientation lines lead into the parking space ⇒ Fig. 141③ .
Align the vehicle in the parking space so that the green and yellow orientation lines are parallel to the parking space.
Volkswagen Tiguan Owners Manual
Volkswagen Tiguan Service and Repair Manual
© 2018-2022 Copyright www.vwtiguan.org - 0.0114