Volkswagen Tiguan Owners Manual: Sockets in the vehicle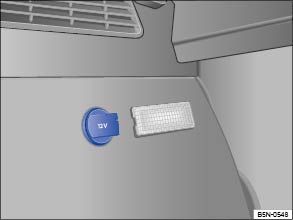 Fig. 126 In the luggage compartment: 12 Volt socket.

Read and follow the introductory information and safety information first
⇒

Introduction to the subject 
Maximum power draw
| Socket | Maximum power draw |
| --- | --- |
| 12 Volt | 120 watts |
The maximum power draw at any one socket must never be exceeded. Electrical devices should have information on them that says how much power they draw.
If 2 or more electrical devices are connected at the same time, the total power draw of all connected devices must never be more than 190 watts ⇒

 .
12 Volt socket
The 12 Volt socket works only when the ignition is switched on.
If the ignition is on but the engine is not running, the vehicle battery will be drained by any device that is plugged in and turned on. For this reason, never use the electrical sockets unless the engine is running.
To help prevent damage from voltage fluctuations, switch off all electrical devices connected to a 12 Volt socket before switching the ignition on or off or starting the engine.
The vehicle may have 12 Volt sockets at the following places:
In the storage compartment or in the front center console.
In the storage compartment in the front center armrest.
In the rear center console.
In the luggage compartment.


Note
Follow the manufacturer's instructions for connected devices!
Never exceed the maximum power consumption, or the entire vehicle electrical system may be damaged.
12 Volt socket:

Only use equipment that has been tested for electromagnetic compatibility and complies with applicable guidelines.

Never feed current into the socket, with a solar panel, for example.
115 Volt socket:

Do not connect devices or plugs which are too heavy, such as a grid power supply adapter or cord, directly onto the socket.

Do not connect lamps containing neon tubes.

Only connect devices to the socket whose voltage is consistent with the voltage of the socket.

For devices with a high starting current, the integrated over-current shutoff will prevent them from being switched on.

Unshielded devices may interfere with radio reception or the vehicle's electrical system.