Volkswagen Tiguan Owners Manual: Eyeglass storage compartment in the overhead console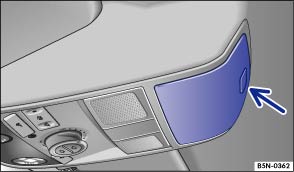 Fig. 111 In the overhead console: Storage compartment.

Read and follow the introductory information and safety information first
⇒

Introduction to the subject 
This storage compartment can be used for storing eyeglasses or other light objects.
To open, briefly press and release the storage compartment cover ⇒ Fig. 111  (arrow).
To close, push the lid up until it latches.
Volkswagen Tiguan Owners Manual
Volkswagen Tiguan Service and Repair Manual
Tesla Model Y (2020-{YEAR}) Owner's Manual
© 2018-2023 Copyright www.vwtiguan.org - 0.015