Volkswagen Tiguan Service and Repair Manual: Coolant Circuit
Coolant Pipe, Removing and Installing
Special tools and workshop equipment required
Shop Crane - Drip Tray -VAS6208-
Hose Clamps - Up To 25mm -3094-
Engine Bung Set -VAS6122-
Removing
Remove the nuts -1- (9 +-1.3 Nm).
Remove the heat shield -2-.
Place the Shop Crane - Drip Tray -VAS6208- under the engine.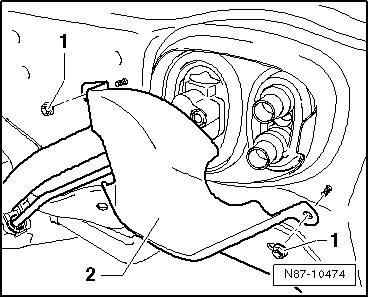 The cooling system is under pressure when the engine is warm. There is a risk of scalding from hot steam and coolant. Burns on the skin and other parts of the body are possible.Wear safety gloves.Wear protective eyewear.Reduce the pressure: cover the coolant reservoir cap with a cloth and carefully open.
Disconnect the coolant pipe -2- at the connecting points.
Remove the nut -1- (9 +- 1.3 Nm) and bolt -3- (9 +-1.3 Nm).
Lightly pull the coolant pipe in the direction of the engine.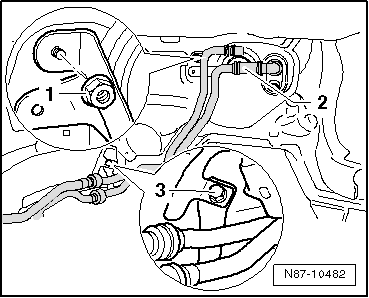 Installing
Install in reverse order of removal. Pay attention to the following for the procedure:
If necessary, remove any dirt or coolant residue.
Add coolant.
Check the heater and A/C unit function.
Volkswagen Tiguan Owners Manual
Volkswagen Tiguan Service and Repair Manual
Tesla Model Y (2020-{YEAR}) Owner's Manual
© 2018-2023 Copyright www.vwtiguan.org - 0.013