Volkswagen Tiguan Service and Repair Manual: Vehicle Electrical System, General Repair Information
Caution
Follow the procedure in the repair manual when disconnecting and connecting the battery.
WARNING
Some tools are supplied with a tool safety clip, which is slid over the tool points after using the tool, in order to protect other workers from injuries and tool points from damage.
Observe the current notes in the corresponding repair manual for all repairs.
Observe country-specific regulations.
Before working on the electrical system, the battery ground cable must be disconnected. By disconnecting the battery ground cable (current disruption), the electrical system is guaranteed to be safe to work on. Disconnecting the positive battery cable is only required when removing the battery.
Before commencing repair work, always eliminate cause of damage, for example, sharp body edges, faulty components, corrosion etc.
Further information, for example, installing and removing the individual components, can be found in the appropriate Repair Manual.
Soldering is not permissible for repairs to the vehicle electrical system.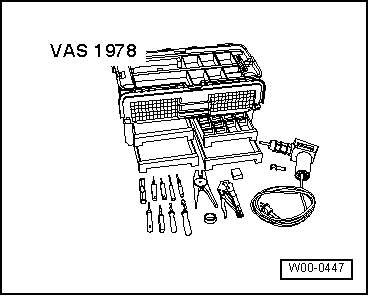 Repair to the wiring harnesses and connectors on the vehicle electrical system may only be performed using the Wiring Harness Repair Set -VAS1978B- and with previous versions. Only use the yellow wires from the Wiring Harness Repair Set -VAS1978B-.
Wiring harness repairs may not be performed again in the wrapping of the vehicle-specific wiring harness and are to be marked with yellow adhesive tape. This indicated a previous repair.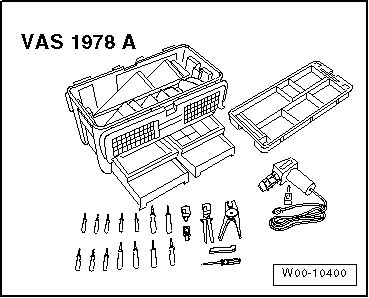 Crimp connections must never be repaired. If necessary, lay a wire parallel to the faulty wire. After crimping, crimp connections must be heat-shrunk using hot air gun to prevent moisture penetration.
Always observe also the supplementary notes for repairing wiring harnesses on airbag- and seat belt tensioner systems, fiber optic cables, CAN-Bus wires, antenna wires and wire cross-sections up to 0.35 mm2.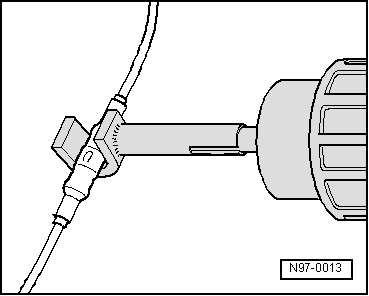 A function test must be performed after every repair. If necessary, check DTC memory, erase and/or bring systems into basic setting.
If possible, do not loosen grounding straps from the body (danger of corrosion).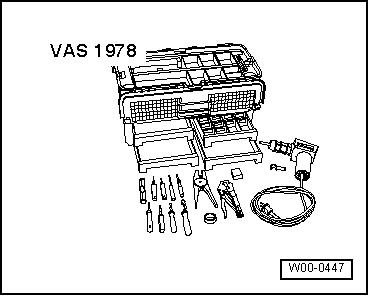 Not all wire cross-sections in the vehicle are contained in the Wiring Harness Repair Set -VAS1978B- and its previous versions. If the required wire cross-section is not present, the next greater cross-section must be used.
Shielded harnesses may be repaired. Camera system wires are the exception. If faulty, the entire harness must be replaced.
Heat-resistant wires have been installed in the vehicle at various locations, mainly in the engine compartment. Heat-resistant wires can be recognized by their somewhat duller and softer insulation. Only heat-resistant wires may be used to repair these wires.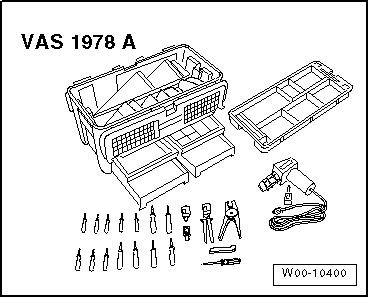 Volkswagen Tiguan Owners Manual
Volkswagen Tiguan Service and Repair Manual
© 2018-2022 Copyright www.vwtiguan.org - 0.0134