Volkswagen Tiguan Owners Manual: Windshield wiper service position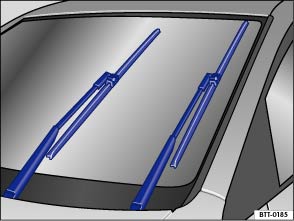 Fig. 88 Windshield wiper in service position.

Read and follow the introductory information and safety information first
⇒

Introduction to the subject 
Service position
In the service position, the wiper arms can be lifted away from the windshield ⇒ Fig. 88 . The wipers are moved to the service position as follows:
The engine hood must be closed ⇒ Preparations for working in the engine compartment .
Switch the ignition off, turn it on briefly, and then off again.
Press the windshield wiper lever down briefly ⇒ Fig. 86④  when the ignition is off.
Wipers move into service position.
Carefully fold the wiper arms back onto the windshield before driving! Switch the ignition on and press the windshield wiper lever down briefly ⇒ Fig. 86④ . The wiper arms move back to their original position.
Lifting the wiper blades and tilting them away from the windshield
Put the wiper arms in service position ⇒ .
Do not handle the wiper blades, handle the wiper arms only at the attachment above the wiper blades.


Note
To help prevent damage to the engine hood and the windshield wiper arms, lift the wiper arms away from the windshield only when they are in the service position.
Always carefully fold the windshield wiper arms down against the windshield before driving the vehicle.
Volkswagen Tiguan Owners Manual
Volkswagen Tiguan Service and Repair Manual
Tesla Model Y (2020-{YEAR}) Owner's Manual
© 2018-2023 Copyright www.vwtiguan.org - 0.0211