Volkswagen Tiguan Owners Manual: Sun visors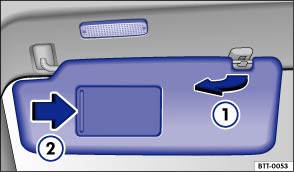 Fig. 84 Sun visor.

Read and follow the introductory information and safety information first
⇒

Introduction to the subject 
Sun visor adjustment:
Flip the sun visor down toward the windshield.
Lift it out of the retaining clip ⇒ Fig. 84①  and swivel it over toward the door.
Vanity mirror and lighting
A vanity mirror is behind a cover in the sun visor. A light may come on when you slide the cover open ⇒ Fig. 84② .
The light goes out when you shut the cover or if you flip the sun visor up again.

The vanity mirror light and the interior light above the sun visor go out after several minutes. This helps to prevent unnecessary drain on the vehicle battery.
Volkswagen Tiguan Owners Manual
Volkswagen Tiguan Service and Repair Manual
© 2018-2022 Copyright www.vwtiguan.org - 0.0112