Volkswagen Tiguan Owners Manual: Instrument cluster lighting , headlight range adjustment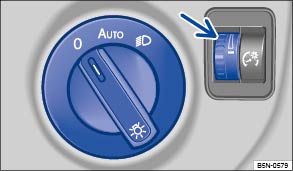 Fig. 83 Next to the headlight switch: control for instrument cluster lighting.

Read and follow the introductory information and safety information first
⇒

Introduction to the subject 
Instrument cluster lighting
Turn the thumb-wheel to adjust the brightness of the instrument cluster lighting ⇒ Fig. 83 .
In some vehicles with daytime running lights (DRL), the instrument cluster lighting switches on automatically when it is dark outside or when driving through tunnels, for example. You will need to switch the headlights on manually when this happens, so that the vehicle's taillights will turn on ⇒ Lights and vision .
Dynamic headlight range adjustment - Adaptive Front Lighting System
The headlight range is automatically adjusted to the vehicle load when the Adaptive Front Lighting System is switched on.


Warning
Headlights that are aimed too high because of the way the vehicle is loaded can blind and distract other drivers. This can lead to a crash and serious personal injuries.
Always adjust headlights to loading conditions so that they do not blind others.